Binocular Floating Carrying Strap
Provided as standard equipment with Leica marine binoculars, optional for others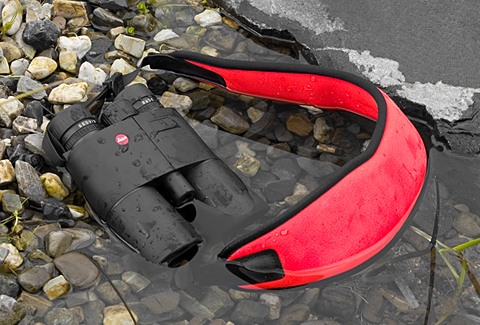 Above: Leica Floating Carrying Strap (65,669 bytes).
Click on image to see enlarged view (94,407 bytes).
This neoprene padded binocular carrying strap is among those accessories provided as standard equipment with the Leica marine binoculars, and is optional for others. It is recommended by Company Seven to provide our customers with peace of mind when using their prized Leica binocular around the water. This device holds most mid size (Appx. 32 to 56 mm) roof prism binoculars securely over your shoulder or around the neck. Understanding that most of our Leica binoculars are waterproof to a depth of 5 meters or so, this will also provide just enough buoyancy to keep a binocular from sinking beyond sight if dropped in the water. And the bright orange color makes it more clearly visible to facilitate recovery.
As with our other models this strap is resistant to the elements however, to avoid reducing the lifespan of the flexible strap Company Seven recommends this not be needlessly left out over long periods of time where it is exposed to direct sunlight.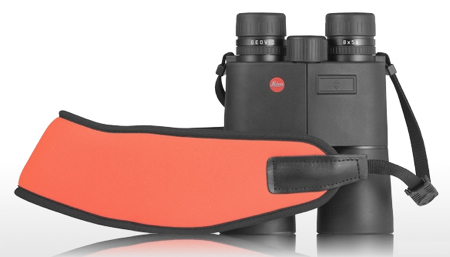 Right: Leica Floating Carrying Strap on GEOVID 8x 56 Rangefinding Binocular (56,319 bytes).
Click on image to see enlarged view (142,606 bytes).
Features:
Easily adjusted mechanisms allow changing length

Generously padded and durable relieves strain for the carrier

Attaches onto any Leica mid to full size binocular

Non-slip pad lines the interior surface

Lightweight

Both metal loops are padded with hard plastic cover so that it remains silent in the field
Back to Leica products index page