Company Seven employs quality control techniques that can make a discrepancy appear obvious to us that would otherwise go unnoticed, and we employ these techniques to evaluate every item that arrives at Company Seven from Leica. Consider for example the case of the Noctilux-M 50mm f/0.95 Aspheric lens shown below, at $10,995.00 (USD in 2012) and with a typical lead time from ordering of about one year this is one of the most costly and sought after optics in production: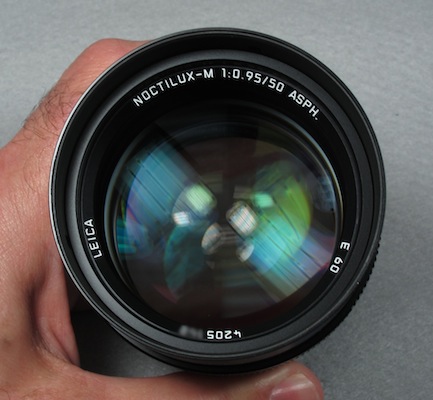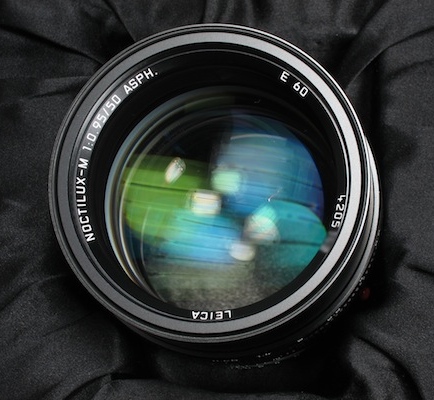 Above left: at first glance upon arrival at Company Seven in 2013 this appears to be another exquisite example of an amazing lens (158,234 bytes).
Above right: when tested at Company Seven under certain filtered illumination and at a nominal angle a hair-like defect well into the lens is obvious to us (85,499 bytes).
Note the Serial Number has been blurred by us so that whomever buys this (repaired) elsewhere will not have their feelings hurt.
Click on images to see enlarged views (494,080 and 647,691 bytes)
In fact the above lens was returned for exchange to Leica not just for the defect shown above at right, but also for a second discrepancy that we found when evaluating this new lens at Company Seven.
Most companies selling optics today are E-Tailers who can not be bothered about giving much good advice before the sale, turn-around whatever box arrives from the factory, and after forwarding it to you they will want to be bothered even less by you for any service needs after the sale. A few other shops out there claim they check what they sell, yet few return anything to the distributor. Where will you choose to buy your Leica products?
Your support makes resources such as our showroom and this Internet Site possible. Our support of our clients makes them among the happiest and most successful enthusiasts. So if we can be of assistance to you in any way, please visit our Laurel, MD showroom, or call 301-953-2000, or send E-Mail to Company Seven.
PACKING AND SHIPPING
When you receive your order it will become obvious that a great deal of care was also given to the safe packing of each item. It is very rare that any component is damaged during transit but if a problem occurs then nobody deals with that any more quickly than Company Seven.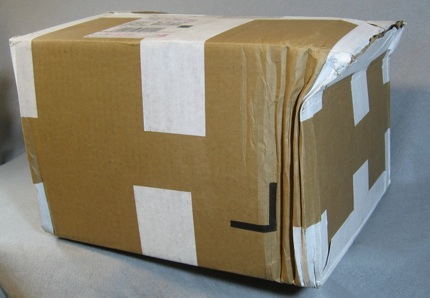 Right: A carton as delivered by United Parcel Service containing a very high-tech Leica GEOVID range finding binocular. This parcel appears to have collided very hard with something to do this deep crushing. And yet the binocular was so well double boxed and padded, that combined with its durability no damage occurred to the binocular! (41,500 bytes)
Click on image to see enlarged view (125,064 bytes).
Click HERE to learn how to order products from Company Seven.