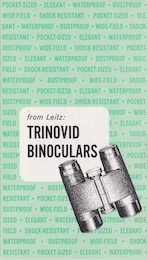 From LEITZ: TRINOVID BINOCULARS (introducing the E. Leitz GmbH Trinovid Binoculars). Originally published by E. Leitz GmbH, of Wetzlar, West Germany in 1963. This is the English language publication, No. 1500, printed in Germany.

Moderate resolution scan of complete six (6) page illustrated booklet introducing the new Leitz Trinovid series of consumer oriented binoculars and their accessories. This also includes the US Prices list. The original three TRINOVID binocular models are featured and described: the TRINOVID 6x 24 (PN 40201, 40202), TRINOVID 8x 32 (PN 40206, 40207), and TRINOVID 10x 40 (40211, 40212). These innovative binoculars were highly regarded. Their features, accessories, and guarantee are explained as well.

The TRINOVID 6x24 was discontinued in 1965, while the other two models were produced until 1975 when replaced in 1974 by the improved 'B' series models. By 1981 the choice of the original leather clad remained, but a choice of rubber armoring (BA series in black or green) were also added. The Leitz Trinovid B/BA were manufactured through 1990. Their features, accessories, and guarantee are explained as well.

The handy form factor was so popular and so many people treasured their old Leitz Trinovid that Leica Camera, AG instituted a program to update them with 21st Century optics and features, and in September 2017 announced return of the original form factor as the improved Leica TRINOVID 7x 35B, 8x 40B, and 10x 42B. These binoculars commenced shipping in the Fall of 2020, by some being referred to as the Leica 'Classic' or even 'Retrovid' models sold by Company Seven.

Article prepared for educational purposes, is helpful in comparing the technologies of the era compared to those of today and following the history of one of the world's most important optical companies. Content scanned from an original in our archives, in moderate resolution and provided by Company Seven as an Adobe .pdf file for Acrobat Reader versions 7 or later.