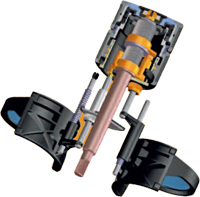 Leica Binocular Center Focus Mechanisms these are engineered to provide ease of use (central focus), quick and smooth performance, and a lifetime of reliable service. The focus mechanism is an "internal" arrangement where optics within the binocular body are moved to accomplish changes of focus. So the exterior does not change, the length of the binocular does not change with focus. This internal central focus mechanism makes it a quick and simple matter to change focus from very close objects out to infinity. And by means of this advanced mechanical arrangement the binocular is sealed well from moisture, dirt and other contaminants.
Left: Ultravid internal focusing mechanism. Rotating the focus collar drives a focusing lens element in each optical barrel (34,591 bytes).
Click on image to see enlarged view (65,030 bytes).
And focusing the Ultravid is even smoother than ever before. The mechanism remains free of play across the entire range. Optimized material pairings and gliding discs made from extremely tough, high-performance plastic are used. In cold conditions, the conventional greased focusing mechanisms sometimes only work with difficulty, and at higher temperatures they move too freely. Furthermore, these focusing mechanisms can feel "sticky", and at higher temperatures there is even the danger that grease can off gas or escape and run on the lens. With the optimized Leica focus, these risks have been eliminated. So even in extreme temperatures it is always fully functional and with a constantly optimal degree of smoothness.
Being mechanical systems, they may require only minor cleaning and/or lubrication service after years or decades of service - depending on the amount of use and the operating environment!
Background: How The Eye Works a binocular can be thought of as a light funnel gathering light through its objective (front) lens, with prisms to erect the image, and with an eyepiece funneling light into the eye.