FEATURES OF THE ULTRAVID
Easier to Use: Better, Faster and More Durable: Logically tailored to the intended use, every technical and ergonomic detail that went into the development of the ULTRAVID has been painstakingly examined, perfected or completely reinvented. The ULTRAVID simply put "feels good in the hands". Its ergonomics provide an instrument that is an extension of the observer - it "gets out of the observer's way" with a very comfortable, natural and well balanced feel. It places its controls and hardware at a convenient and comfortable position - and it's obstructions (strap hinges, etc.) remain out of the way.
The BR and BR models are covered with a new "soft touch" rugged cladding. This material is comfortable to grip in all kinds of weather conditions. The BL versions covered in leather are even lighter in weight than the BR and inspire confidence with their professionally crafted appearance.
The ULTRAVID incorporate new eyepiece designs which provide reduced distortion over prior generations. You will see a wider true field of view than before. This can be observed in how a straight long object (tree, building, etc.) when seen along the edges of the field of view do not bow out at the edges (hence the term "pincushion distortion") as much as on other models.
Right: ULTRAVID 8 x 20 BL with strap, eyepiece covers, and open hard shell black leather case.
This is similar to the arrangement provided with the 10 x 25 BL. click on image to see enlarged view (189,500 bytes)
They also provide improved eye relief over prior models thereby making the observing experience more comfortable whether observing with the naked eye, or with sunglasses or prescription spectacles. And with their diopter adjustment range of ± 3.5 diopters many people with near or distant eye focus problems (and no notable astigmatism) can use these without having to rely on their prescription glasses.
Twist up rubber covered eye cups allow the user to quickly and conveniently snap the eye cup in or out to accommodate observing preference, attain a shorter profile for storage. Unlike some other twist up designs, there is no peaked contour of the rubber cup so that the ULTRAVID eye cup can be used while in or out, or in between their extension range without the observing bumping into the peak of the contour of other binoculars.
The ULTRAVID focus gearing provides smooth focus for a lifetime of reliable service, with rapid focus from infinity to near focus points with slightly more than one full revolution of the convenient focus knob. This process can require as many as three revolutions in some competing models!
The diopter adjustment of the ULTRAVID is accomplished quickly by a pull and turn adjustment of the Leica Multifunction Center Drive focus mechanism. This can be locked securely, and when secured it preserves the waterproof integrity of the binocular.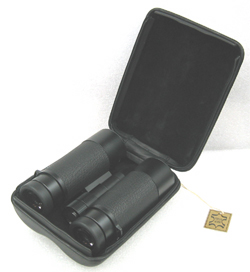 The ULTRAVID compact binoculars also differs from their predecessors in that the BL are provided with an innovative, form fitted hard shell case made of leather finished in black. The black leather BL case available with the 10x 25 BL also incorporates a belt loop to keep it close at hand. The black leather case will open or close lengthwise, with the hinge at the bottom and so it is a simple matter to store or remove the binocular while the case is on your belt though one takes a bit of care not to snag the fabric braces on either side in the channel when closing this case.
Left: Black fitted leather zip case (shown opened) as is provided with Leica Ultravid 42mm BL Binoculars
click on image to see enlarged view (245,496 bytes)
In 2010 Leica introduced a brown leather case (shown in the image below right) that is more like the traditional Leica camera case in appearance, this features an easier to manipulate conventional flap top lid. The brown leather case provides a bit better protection than the black leather clamshell style case, but the brown case does not incorporate a belt loop. So those of you who prefer to carry this on a belt should either order the ULTRAVID BR with the nylon codura pouch, this case has the belt-loop. Both versions of the leather cases made for the BL snap shut, while the brown leather case lid fastens by means of a magnetic clasp the black leather case has a conventional snap fastener.
The ULTRAVID BR models are provided with a newly designed durable black nylon pouch with flap lid, and with a belt loop. The new pouch has a snap closure, is more resistant to abrasion and rot and is therefore a better solution for those who keep a binocular near the salt air environments.
Company Seven can provide both the fabric nylon pouch and a brown leather case with your ULTRAVID BL or BR binocular since either of these cases will fit either leather-clad or rubber armored 10x 25 binoculars.