Leica Trinovid 8 x 20 Compact "Edition" Brass Binocular
The Leica Trinovid 8 x 20 "Edition" Like all LEICA binoculars, the exclusive brass version of the TRINOVID 8x20 BC binocular distinguishes itself by the highest optical performance, but it also stands out because of its especially rich construction of solid brass: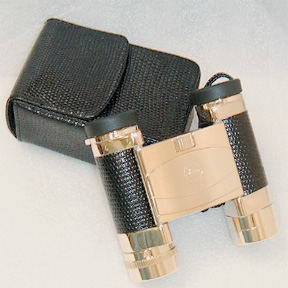 To the right is illustrated the Leica Trinovid 8 x 20 "Edition" with it's furnished storage pouch, with eyecups in the retracted position (33,647 bytes).
For the special edition binocular Leica decided to manufacture it of brass polished to a high gloss and specially protected against oxidation and scratches. The brass was used for the fabrication of all the parts that are made of aluminum in the standard 8x20 BC and BCA versions. The brass parts are machined from solid brass in the traditional manner and then meticulously polished by hand. The classic raw material, brass, is now further enhanced with a durable high-tech coating. This TRINOVID 8x20 is then covered with genuine calf leather with a lizard texture. An additional elegant touch is the fact that the same leather is used for the carrying case (illustrated above) that is supplied with the binocular; a sewn on belt loop allows it to be worn on a belt. With the introduction of his revolutionary Orthoscopic eyepiece for telescopes in 1849, Karl Kellner set the corner stone of the tradition-steeped Leica brand. And today after exactly 150 years, Leica creates a bridge into the new millennium with the announcement of this exquisite binocular.
This special edition of the LEICA TRINOVID 8x20 BC production has been limited to 1999 pieces. Company Seven does keep one of these beautiful instruments for our museum/showroom display, and we intend to stock them as long as we can obtain inventory from Leica. Each binocular will be engraved with a special individual number between 0001 and 1999.
Go to Leica price list
Back to Leica binoculars page
Back to Leica products page