QUESTAR SEVEN FORK DECLINATION VERNIER MANUAL DRIVE
This accessory made by Questar for the Questar 7 Fork was discontinued in the mid 1980's, since replaced by motorized models.
This article is provided as a courtesy by Company Seven for those customers who have helped to keep us in business.
---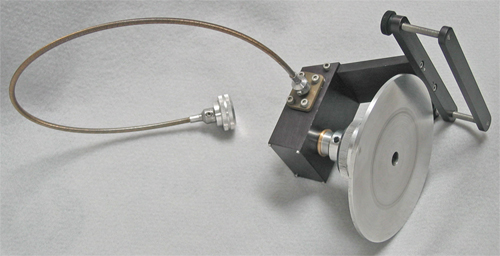 Preface: Company Seven is a resource for the international astronomical, nature watching and law enforcement/defense communities. We are the only Questar agent for their Consumer, and Industrial (Surveillance and Long Distance Microscope and Remote Measurement Systems) product lines. We are proud to present Questars for research, education and recreation to government, industry, and the most demanding amateur. The National Aeronautics & Space Administration (to whom we supplied Schmidt-Camera telescopes for the International Halley Watch), the U.S. Naval Observatory, the Smithsonian Institution, and the more demanding amateur astronomer and naturalist are our most prominent references.
Above page title: Logo used by Questar from 1962 through 1960's.
Right: Declination Vernier Manual Drive for the Questar Seven telescope Fork Mount (89,086 bytes). Note the flexible cable and hand knob, the Gear Reduction Box, and the Bracket assembly that permits one to clamp the assembly onto the Fork Side Arm. The machined aluminum knob was put in place of the original Hand Knob, and this could be left in place for use with or without the Vernier Manual Drive Assembly.
The Declination Vernier Manual Drive shown here was among the accessories delivered new with the Questar Seven S/N P-7-378-DP when it was originally sold in 1979. The system is now in the Company Seven museum collection.
Click image to see enlarged view (188,542 bytes).