Photographic SLR Camera Adapter for TELEVID Telescope
Wouldn't it be wonderful to take an image home of what has been seen?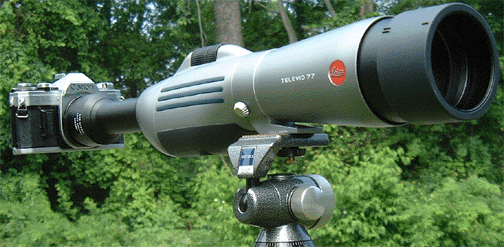 Leica Straight Body TELEVID 77 with optional Camera Adapter
shown with 35mm SLR camera and adapter ring.
Just as durable as the telescope, and providing the high contrast excellence of image that one is accustomed to from Leica optics, the optional Photographic Camera Adapter provides the user of a TELEVID telescope with the opportunity to photograph that which is observed with the telescope! For example, it transforms the APO-TELEVID 77 and APO-TELEVID 82 telescope into an Ultra-telephoto lens of 800mm - very well suited for large game at a safe distance, or smaller objects that are less distant.
Features include:
Contrast and clarity, particularly with APO-TELEVID 62 and APO-TELEVID 77, and APO-TELEVID 65 or APO-TELEVID 82, rival the finest provided by similar focal ratio Ultra telephoto lenses.

Camera may be rotated to the desired orientation; any position from horizontal to a vertical composition.

With optional adapter it can accommodate the Leica R cameras or most popular SLR cameras (Canon, Canon EOS, Minolta, Minolta Maxxum, Nikon, Olympus, Pentax K).

With optional adapter it can accommodate C-mount video cameras.

44mm and 42mm diameter fitted plastic protective covers.

Cylindrical black nylon pouch with zip top cover, fit with padding to protect the camera adapter.
For those who seek a way to capture images quickly and easily when using a compact digital camera or Cell phone we recommend the optional Leica Digital Adapter.
Technical Data:

Number of lens elements:
Seven (7)
Effective Focal Length
800mm
Actual Field of View on 35mm Format
2.5 x 1.7 x 3.1 Degrees
Effective Focal Ratio (TELEVID 77 for ex.)
10.4
Weight
215 g.
Adapter Length
129mm (5.1 inches)
Maximum Diameter
58mm (2.3 inches)