Leica APO-TELEVID 82 Spotting Telescopes
On 23 February 2009 we posted our first review of this new product being sold elsewhere and raved about. However, Company Seven has some concerns with the telescope and case as they were being made, so we have returned the stock after contacting Leica in Germany to discuss our constructive comments. Over the summer of 2009 Company Seven worked towards an agreement with Leica whereby we sell the telescope and case as they are made now, but with some special arrangement that allow our customers to have the issues remedied later at no cost, or exchange the instrument altogether. We have been accepting orders, but we would not make deliveries until we were satisfied. On 8 September 2009 Company Seven started making deliveries of the APO-TELEVID while explaining the accommodations plans for our customers. We do continue to display these in our showroom.
Above: Leica APO-TELEVID 82 angled telescope with VARIO 20 - 50x WW ASPH ocular in Ever Ready Case - a stunning performer!
Note dual speed focus control at top just ahead of eyepiece, and barrel rotation lock on mount ring (121,037 bytes).
Click on image to see enlarged view (247,752 bytes).
Amazing in Every Way
The Leica trademark has come to represent uncompromising excellence of materials, design and quality control. This is a product line made for those who see a spotting telescope or binocular as an investment to be paid back over decades of good service, for people whose lives or livelihood depend on seeing it first or better. In keeping with their canon Leica has developed the new state of the art field telescope for the 21st century - the APO-TELEVID 82 and its smaller cousin the APO-TELEVID 65. Announced by Leica Camera AG of Germany in August 2007 and finally coming available in limited quantities in February 2009, these instruments have been worth the wait. Our staff at Company Seven, who are used to working with the finest astronomical telescopes, are favorably impressed by our first arrivals. While advertised by many for months before they were made available, Company Seven did not publish any mention of this instrument until February 2009 when we had the opportunity to examine it firsthand, after all how can we continue to be expert with products that we have not used? We will continue to process these through our quality control process to assure our customer receives only the finest example of the worlds finest field telescope.
Right: The business end of the APO-TELEVID 82 - dramatic light throughput (62,589 bytes).
Click on image to see enlarged view (120,309 bytes).
Since 1994 with the introduction of the original TELEVID 77 and APO-TELEVID 77 Leica field telescopes have been among the best optically, most durable, shock resistant, and water proof field telescopes ever made. The latest generation replacing the TELEVID 77 is the Leica APO-TELEVID 82. The Leica APO-TELEVID 82 carries on the tradition and brings with it a noteworthy thirteen (13) percent increase in light transmitting power over its predecessor, with even better contrast and resolution. These larger aperture instruments perform better at dawn and dusk, under other adverse lighting condition, and they can better judge mirage and atmospheric conditions down range. And the new telescope weighs less and is even more compact too! Just about anything one could ask for is here.

The latest Leica Televid generation redefines this standard. Leica created this instrument after talking to experienced users, asking detailed questions about tried and tested construction techniques and completely new developments; these have led to this sophisticated and elegant line with 82 mm and 65 mm diameter objectives. Amazingly the 82 Angled is not only a superior optical system in sheer performance than its predecessor, but the APO-TELEVID 82 is also lighter in weight and compact! They are the most compact spotting scopes with the shortest close focus distance in their class. And of course the Leica APO-TELEVID 82 is supported by a selection of the best engineered accessories which include eyepieces, filters, and camera attachment devices.

Above: photograph at left taken with achromatic system and at right with apochromatic system.
Note the secondary false color fringing on the branch and around the bird and the subtly lowered contrast in the achromatic lens,
This chromatism is completely eliminated with the fluorocrown objective of the APO-TELEVID.

Simply Brilliant!

These top-of-the-range spotting scopes deliver professional levels of performance for all users. These are superbly well suited to hiking in any environment, for visual and SLR photographic or digiscoping uses in ornithology, for observing nature, long distance inspection and surveillance, and even for some applications in astronomy.

An innovative configuration of a five-element system including and air-spaced fluorocrown objective lens group provides the maximum colour fidelity and richness of contrast possible with today's technology - and this is simply amazing! Colors of the spectrum have differing wavelengths and so in a normal optical glass prism the red and blue rays are bent at slightly different angles as they pass through, this dispersion results in color fringing and less sharpness. In normal to wide-angle lenses this is imperceptible or is corrected with other techniques, but telescopic lenses magnify the variation in focus between red and blue light rays and so this advanced glass technology had to evolve to solve this problem. And these lenses employ the multi-layer coating process to prevent light reflection off the surface of or between the lenses, this process and internal baffling virtually eliminates ghost images and flare, and it improves color rendition. All of this achieves a dramatic increase in image contrast and actual light throughput, with a corresponding reduction in flare that could otherwise be caused by internal reflections. Optically neutral front lens glass to protect the APO optic, and Leica AquaDuraTM and other high transmission coatings assure glare free views where the color fidelity is true and intense and black appears "blacker than black" from dawn to dusk or even in the glare of bright sunlight.

With its particularly short close focus distance of 3.9 meters (12.8 ft) and with some people attaining 3.5 meters, the LEICA APO-TELEVID 82 is the perfect tool for experiencing nature at very close range. And it's high-quality images can be captured with a digital or film camera using the optional Leica SLR Photographic Camera Adapter (PN 42306) or Digital Camera Adapter (PN 42305). The TELEVID models feature a unique dual speed geared transmission focuser, and this allows a quick coarse rapid and a precise fine focus control. The entire assembly is designed with ergonomics in mind so that all controls and functions are easy to operate, and do not intrude upon the observing experience.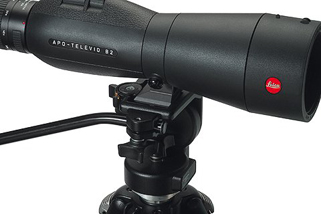 The telescope body housing is constructed of a lightweight but rigid diecast magnesium housing. This is sealed and nitrogen purged to be fog and waterproof down to 5 meters (16.4 feet). The body is then clad in a durable black rubber cover to facilitate handling in the cold, to protect the finish from routine scrapes, and to eliminate the chances of startling game with metallic sounds. The front cell of the telescope incorporates an extendable lens shade or hood. This lens hood when extended protects the lens from dew, off-axis light, and mechanical damage or soiling by rainwater or fingerprints. Regardless of the hood Company Seven recommends you protect your investment by attaching a protective optical flat filter, this can be a visually transparent ultraviolet (UV) filter for example. We do offer a good selection of clear and polarizing filters by Leica and by the best third party filters, we offer versions from Germany for visual and for imaging applications on the APO-TELEVID 82 and APO-TELEVID 65.

Left: the new wedge shaped foot of the APO-TELEVID attached onto Manfrotto quick release Head saddle.

To make things easier for the user in the field and to carry even less weight the new wedge shaped foot of the telescope will mount directly onto many premium quick release tripod heads (by Bogen, Manfrotto, etc.) and without the use of the quick connect plate as shown in the image to the left. However, if you wish to protect the foot of your LEICA APO-TELEVID from marring, then you can still attach a Quick Release Plate onto the foot of the telescope and use it as we have shown in the image at the top of this page.