Corporate Identity And Projects Leading Up To This:
Decades ago there was a time when pride of innovation dictated corporate identity, more so than in recent years when decisions are often made by company bean-counters who may know the price of everything, but the value of nothing. This was when corporations like Nikon would put its best minds to work at developing truly amazing products, making more than only those products that simply made good commercial sense. Throughout the 1970's and 1980's their innovative work allowed Nikon to dominate professional 35mm single lens reflex (SLR) camera and lens technology, while their corporate logo (shown above) became familiar to almost anyone world-wide. Their achievements include developing the world's first high performance 200mm f/2 telephoto lens, since rivaled by other makers, and the world's first and only high performance 300mm f/2.0 telephoto lenses described here.
Right: Nikkor 300mm F/2 ED IF Lens (SN 182429) the fastest 300mm lens ever in production! Shown as displayed at Company Seven with a Nikon 35mm SLR camera attached and set up for wide sky astrophotography 'piggybacked' atop a 102mm refracting guide telescope and German Equatorial mount (41,849 bytes).
Click on image to see enlarged view (288,973 bytes).
Soichi Nakamura, Kiyoshi Hayashi, And Their Lenses:
What we now know as the Nikon company was from its inception in 1917 through 1988 named Nippon Kogaku Kogyo Kabushikigaisha, this is japanese for Japan Optical Industries Corporation. Among Nippon Kogaku's best telephoto lens designers going into the 1970's was Mr. Soichi Nakamura. By the mid 1970's Mr. Kiyoshi Hayashi was assigned to work with Mr. Nakamura in the then Optical Section 1, Optical System Department. For his first design project at Nikon Mr. Hayashi worked with Mr. Nakamura to develop the world's first high performance 200mm f/2 telephoto lens, a design completed in 1976 with the first lenses sold in April 1977. Originally marketed as the Ai Nikkor 200 mm f/2S IF-ED, this was an amazing and unprecedented lens design with a then unprecedented 122mm aperture front lens patented on 4 December 1979 as the "Telephoto Lens With Large Relative Aperture".
Providing faster shutter speeds than those possible with other contemporary lenses this 200mm lens provided sports photographers with the capability to employ shutter speeds fast enough so that they might better capture the gentler moving actions of gymnasts and other athletes. The comparatively fast maximum f/2 focal ratio also allows the photographer to attain a very shallow depth of field, an effect that while keeping the object of interest clear and in focus gradually blurs out objects in the foreground and background. Telephoto lenses, particularly as they pass 200mm and higher focal lengths, provide a compressed perspective where objects near and distant in the image appear closer together than they actually are; this too provides the photographer with some artistic latitude when composing an image. This 200mm lens allowed the photographer to focus onto subjects closer to the lens than its predecessor lenses could. And finally, the large aperture makes objects appear brighter in the viewfinder, hence the photographer can focus quicker with better precision. The 200mm f/2 was an instant success with sports and news photographers, as well as with the more demanding and better financed amateur.
The 200mm f/2 was followed later in 1977 by the Nikkor 300mm f/2.8 EDIF, similar in concept with the 122mm front aperture but owing to its larger size provided with a tripod adapter and drop-in 39mm filters at the rear. Of course with a matched Nikon 2X Teleconverter these lenses could be employed as 400mm f/4 and 600mm f/5.6 lenses.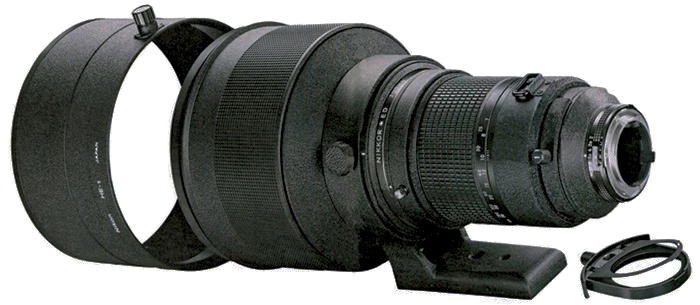 Above: Nikkor 300mm F/2 ED IF Lens shown with provided Lens Shade Extension HE-1, 52mm Drop-in Filter Holder installed, and Drop-in Gel Filter Holder (95,750 bytes).

Mr. Hayashi pushed the envelope of lens design further when in 1981 he and his team completed the design of the new Ai Nikkor IF-ED 300mm f/2. It was developed in anticipation of its use covering indoor sports at the 1984 Olympics that commenced in February at Sarajevo. Mr. Hayashi's team built the 300mm f/2 upon the experience gained as they developed other lenses including the Nikkor 200mm f/2 ED IF of 1977, but the 300mm f/2 is actually a much more complex design and with several more optical elements than those incorporated in the 200mm f/2. Production of the lens was assigned to Nikon's Sagamihara Plant, a facility opened in 1971 that would host numerous lens innovations including Nikon's first lenses that incorporated aspherical components. In the year 2000 the entire section was relocated to the Nikon Tochigi facility, but more about them later in this article. The lens was introduced in 1983 at a then astounding list price of $6,500 USD; note this was at a time when the Dollar to Yen exchange rate was on the order of 238 Yen per Dollar. As this article was updated that is now about 78 Yen to the Dollar, so at the start of 2012 this lens would list at about $19,833 without adjusting for inflation!
the Instruction Manual opened with Nikons' statement to the world:

"You now own the world's fastest 300mm telephoto - the new Nikkor 300mm f/2 IF-ED"
The group filed a US Patent application for this fast telephoto lens on 23 July 1984 but this original application was abandoned and filed on 20 January 1987 to also include design aspects of its cousin, the Nikon 400mm f/2.8 ED IF lens. That Patent was granted on 22 March 1988.
Kiyoshi Hayashi continues to work in the development of advanced optics. He and his associates have garnered numerous patents starting in the 1970's and continuing into the twenty first century. Even as this article is written in 2011, his Nikkor 300mm f/2 ED IF lens and its 2004 cousin (described below) remain unrivaled. Company Seven considers this such an impressive accomplishment that we maintain one or more versions of the lens on display at our showroom/museum collection.
ED and IF: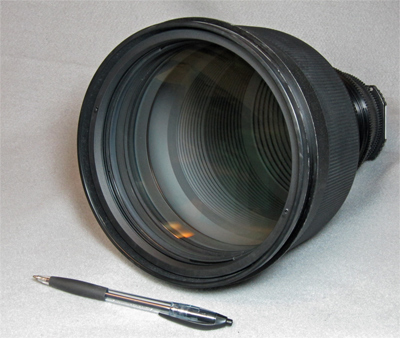 Most of the innovations in camera lens technology over this period could be attributed to improved performance of calculators and computers used to model the optical designs, computer assisted manufacturing equipment, and to the advanced glass types developed and with consistently higher purity (homogeneity, etc.) that would permit engineers to push the boundaries of lens tech. The ED suffix of a Nikon lens indicates the optics incorporate one of the then recently developed special dispersion crown glass elements often termed 'Extra-Low Dispersion'. The Nikon ED lenses are designed to provide precise optical color correction. Colors of the spectrum have differing wavelengths, and so in a normal optical glass prism the red and blue rays are slowed and bent at slightly different angles as they pass through the prism. This dispersion results in the appearance of chromatism, a color fringing and overall reduction of sharpness. In normal and wide-angle lenses this is imperceptible or corrected with other techniques but telescopic lenses magnify the variation in focus between red and blue light rays so that this becomes perceptible. It was to solve this problem of lens design that fluorocrown ED glass types and its successors have been developed to solve this problem.
"like looking into the mouth of a Whale!"
Right: The business end of a Nikkor 300mm F/2 ED IF lens, displayed at Company Seven. It is like looking into the mouth of a Whale! Shown with lens shade retracted in stowed position, and without the provided HE-1 Hood Extension attached (81,921 bytes).
Click on image to see enlarged view (182,001 bytes).
Historically focus was achieved by varying the distance between optical components of a lens and the camera by means of a 'total drawing-out' focusing mechanism, this moves the objective (front elements) of a lens closer to or farther from the camera depending on the distance from the lens to the object - near or infinity (∞) focus. When using this arrangement with lenses of 200mm focal length or less, this can provide acceptable results. But for lenses greater than 200mm one must compromise, giving up near focus capability in order to manage the various aberrations. Components of these lenses too must be scaled up to deal with the larger and bulkier arrangement. The mechanics necessary to shift larger and larger lens elements become bulkier and heavy, often complicated by the need to keep components movements smooth and consistent along the full range of focus. The diaphragm of the longer lenses can become so large that it is difficult for the coupled automatic diaphragm linkage of a camera to control the diaphragm when releasing the shutter. However the Internal Focus (IF) design provides focus is changed by moving only a few optical elements built within the lens. So in an IF lens the overall physical length of the lens does not change when focusing since only internal components shifted. Internal focusing allows a lens to be made in a more durable and weather resistant arrangement. IF lens arrangements can be made to provide excellent performance and at nearer focus capability than their conventional cousins. An added bonus is that when focusing the longer IF lenses in particularly, then the weight distribution does not change forward or backwards therefore there is no need to adjust balance or the tension of the lens support (tripod, etc.). IF designs have since become adopted for use with more compact autofocus lenses as this provides the lens may be controlled with smaller motors, and with less current demands.
The multilayer coating process prevents light reflection off the surface of, or between the lenses. This process and internal baffling virtually eliminates ghost images and flare, and it improves color rendition. All of this achieves a dramatic increase in image contrast and actual light transmission, along with a corresponding reduction in flare that would otherwise be caused by internal reflections.

Production Nikkor 300mm f/2 ED IF Overview:
Nikon's Nikkor 300mm f/2 ED IF is among the most rare of their production lenses with approximately four-hundred forty one (441) being manufactured, including a prototype, between the Summer of 1983 and into 1985. The system incorporates eleven elements arranged in three working groups, this is how it is described in the Patent however, most specifications characterize elements that are not cemented together as separate hence some people will describe this as eleven elements in eight groups: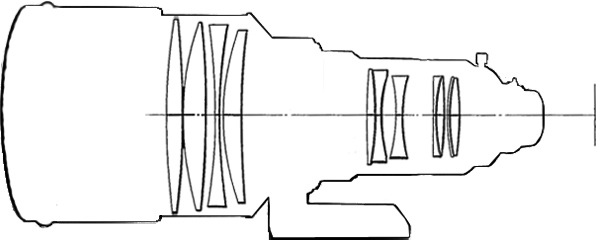 Above: profile of the Nikkor 300mm f/2 ED IF lens with lens shade extended and with over-layed optical arrangement as designed (21,207 bytes).
Not shown here are the front protective flat glass element or the drop-in 52mm filter at rear; these are included with production lenses.
The Nikkor 300mm f/2 ED IF lens bears the in-house Nikon Product Code JAA31401:
JAA indicates this is an F-Mount lens

3 indicting this is a telephoto lens (0 = normal, 1 = wide, etc.)

14 indicates this is the 14th lens in the numbering sequence

01 indicates this is the revision code / lens features, this may be numbers (old) or more recently characters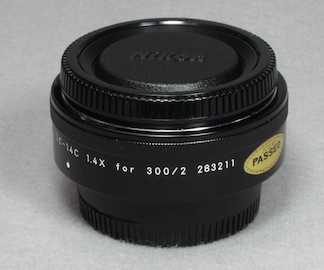 The Nikkor 300mm f/2 ED IF lens was sold by Nikon only as a set designated Part Number 1472 that included: the lens with retracting lens shade and one drop-in 52mm L37c thread-in filter with 52mm filter holder installed, slip-on leather front lens cover, soft fabric carrying strap attached to the lens, Nikon LF-1 Rear Lens Cap. Also included is a slip-on HE-1 Lens Hood Extension (P/N 605), the Nikon TC-14C Ai-S Teleconverter with front and rear covers, one 52mm drop-in gelatine filter holder, fitted keyed CT-300 Lens Case (P/N 4420), instruction manual, and warranty card.
The TC-14C Ai-S Teleconverter bears Nikon Product Code JAA90501. With the number 9 representing teleconverter, 05 indicates this was the fifth lens in the sequence.
Right: the Nikon TC-14C Ai-S Teleconverter is clearly engraved with the mention that it is designed specifically for use with the 300mm f/2.0 EDIF lens (27,160 bytes).
This is also compatible with the Tochigi Nikon 300mm T2.2 lenses (explained below) provided the lens has a Nikon F bayonet mount. Image of component in our collection.
To see enlarged view, click on the above image (90,745 bytes).
With the provided Nikon TC-14C Ai-S Teleconverter, an attachable 1.4X focal length multiplying accessory, the 300mm f/2.0 lens could do double duty as a 420mm f/2.8 lens and with absolutely no loss of quality. Or with an optional Nikon TC-201 Teleconverter it operates as a 600mm f/4, while with the Nikon TC-301 Teleconverter it can operate as a 600mm f/5.6. So that one lens when paired with those two compact accessories allows the photographer great flexibility, and with no compromise of image quality, or reduction of maximum f/ratio below what the best alternative lenses (400mm f/2.8, 600mm f/4) offered. The lens and the recommended optional Teleconverters too incorporate an automatic indexing (AI) linkage that interfaces between the aperture control lever of the camera body and that of the lens. In the AI system the lens diaphragm is left open to the maximum aperture while observing and focussing, then as the shutter is tripped the lens is instantly stopped down to whatever aperture setting the photographer selected, then after the exposure the diaphragm returns to its normal open state. Of course the professional Nikon cameras allow 'stop down' metering too, where the photographer overrides the default system and can manually stop down the diaphragm.
Above: side and front views of Nikon 300mm f/2.0 EDIF lens rear module incorporating: bayonet mount, AiS indexing and aperture stop down hardware, aperture
readout scale, variable diaphragm (stopped down to f/2.8), 52mm drop-in filter holder, lens carrying strap hooks (92,442 bytes). Image of component in our collection.
To see enlarged view, click on the above image (128,291 bytes).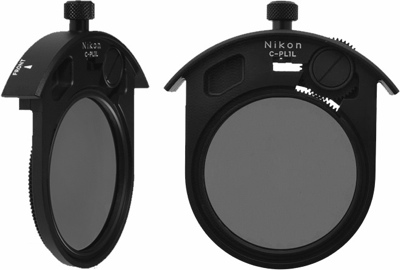 Filtering is provided for by means of the 52mm 'drop-in' filter slot near the rear of the lens that accepts either of the two provided filter holders, one for a thread-in 52mm diameter filter and the other for slip-in gelatin filter. The 300mm f/2 ED IF has this in common with its cousins the Nikon 400mm f/2.8 ED IF and the 600mm f/4 ED IF series lenses. The conventional 35mm film format dimensions are 24mm tall x 36mm wide with a diagonal of 43mm, so the 52mm filter can cover the entire film frame with no vignetting. The provided filter holders are resistant to dust and dirt, but their slip-in ports are not waterproof. The provided L37c filter absorbs ultraviolet wavelengths below about 370 nanometers thereby preventing 'blue blur', hence the designation L37. The 'c' suffix indicates the front and rear of the filter has NIC antireflection coatings (the same multi-coatings as on Nikon lenses) to prevent causing reflections or ghost images.

Left: Optional Nikon C-PL1L Circular Polarizing Filter, as see from the quarter and rear perspectives.
On the rear view note the geared focus control wheel to the right side on the top cover (25,033 bytes).

The drop-in filter holder could accommodate a polarizing filter however, the only way to adjust the orientation of the filter to the target is to loosen the Nikkor's Mounting Collar and rotate the lens. Unfortunately this causes not only the lens but also the Nikon camera at the rear to rotate and may put the camera in some unfavorable orientation to compose the photo. Years after the 300mm f/2 ED IF were discontinued Nikon introduced the 'C-PLxL' series of drop-in filter holders, a valuable optional accessory for anyone taking pictures out doors. Each one includes a thread-on Nikon Circular Polarizing Filter. The holder incorporates a geared mechanism so that even when the filter is installed into the lens the photographer can rotate the filter to any desired orientation, as much as 360 degrees.

A circular polarizing filter is the preferred choice whenever using most modern cameras that employ a through-the-lens (TTL) center-weighted metering system. But note the use of multi-sensor metering camera may result in incorrect exposure. There are several variants of these filter holder sets produced by Nikon however, the only model that properly fits the 300mm f/2 ED IF lens is the Nikon C-PL1L (Part No. 2474). One last caution the C-PL1L filter holder is not resistant to dust or dirt, and are not waterproof.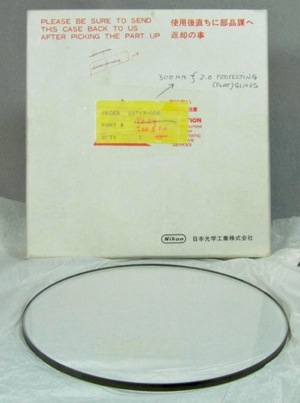 While the lens accepts drop in filters near the rear, unlike many other camera lenses the forward end of the 300mm f/2 ED IF is not provided with filter threads or any other means to attach a filter at front. Instead of a thread-on filter the lens incorporates a multicoated window, an optical flat element, for the protection of the front element of the lens. This window is held in place by a thread-on retaining so that if this window is damaged then it could easily be replaced by a service facility. Even though this ring appears to have threads that might permit attaching a filter, these threads are beveled and ribbed too therefore this can not accept any accessory.
Right: A Nikon issue 4.94 mm thick protective flat window of a Nikkor 300mm F/2 ED IF lens. Stocked at Company Seven (29,768 bytes).
Click on image to see enlarged view (182,001 bytes).
We recall that in the mid 1980's Nikon also sold an optional and then costly thread-in Nikon 160mm L37c filter. This filter was provided with its own protective hard leather case. Yet Nikon made no provisions for the user to use this or any other filter at the front of the 300mm f/2 ED IF lens. This means that if/when the protective window of these lenses is damaged, then the lens must be sent to Nikon (Melville, New York or Los Angeles, California) or to some specialist (Century/Schneider Optics) for servicing. Fortunately we do keep one replacement window at Company Seven (shown at right) - just in case.
The antireflection coated optical elements appear almost invisible to oncoming light, any reflection seen tends to come off the flat front window. The lens barrel interior is lined with precisely machined anti-reflection ribs, with the interior finished throughout with antireflection black. The adjustable iris diaphragm in the rear of the lens is treated to prevent internal reflections off the blades. The lens elements edges are darkened too. Looking into the lens leaves one with the impression of looking into a dark cave.
The basic specifications of the Nikkor 300mm f/2 ED IF lens are:
Focal length (with full frame FX format Nikon bodies): 300mm

Maximum aperture: f/2.0

Front Aperture: 152.54mm (6.01 inch)

Field of View: 8°10'

Apparent Focal length (with DX format Nikon bodies): 465mm

Lens construction: 11 elements in 8 groups, plus a dust proof glass plate built into front cell and one drop-in 52mm filter (glass or Gel) at rear

Diaphragm (Iris): fully automatic, can be set to f2, 2.8, 4, 5.6, 8, 11, or 16

Distance scale: graduated in Meters and Feet, from 4m (13.1 ft) to infinity (∞) and with Depth of Field indicators. Infrared focusing index provided

Aperture scale: f/2.0 - f/16 on both standard and aperture-direct-readout scales

Exposure measurement: full-aperture method; meter coupling ridge provided for Al cameras with a meter coupling shoe for non-AI cameras

Focusing: Manual Nikon Internal Focusing (IF) system; focusing collar stop can be preset to stop at any distance setting

Focus Distance Minimum: 13 feet (4 meters), any distance can be preset by click-stop ring

Lens Mount: Nikon F bayonet AIs this lens can be attached onto any Nikon SLR camera made since 1959

Lens Rotating Collar: built-in tripod mounting collar rotatable through 360°, with adjustable drag and lock

Dimensions: 13 x 7.15 inches (330mm x 183mm)

Weight: 16.6 lbs. (7.5 kg)

Lens Hood: built-in telescoping screws into stored or extended positions. Extension Nikon HE-1 Lens Hood provided too

Filters: glass 52mm filter threads into drop-in filter holder, or gelatine slips into provided holder
For detailed information about the lens design and its performance then refer to Nikon 300mm f/2 and 400mm f/2.8 Design Patent, the Patent papers written by the designers of the lens. A downloadable .pdf file of the Patent is hosted by Company Seven and linked at our "Further Reading" section below.


Nikkor 300mm f/2 ED IF Applications:

When the lens was initially released for sale in 1983 it was sought after by sports photographers, most notably those destined to cover events at the 1984 Olympics. In time many news and magazine publishing organizations added one or more of these lenses to their inventory. Most of the lenses kept in shared pool inventories show the wear and tear taken at the hands of users who were more concerned about getting the photo to maintain their status than keeping the lens in new condition. While those lenses paid for and owned by individuals tended to fare better. Most of the lenses were used atop either a monopod or a field tripod, though at f/2 the lenses could be hand-held at well lit events or when using faster films. Regardless of how these lenses were treated, their robust and first-rate construction assured none failed to deliver a good result.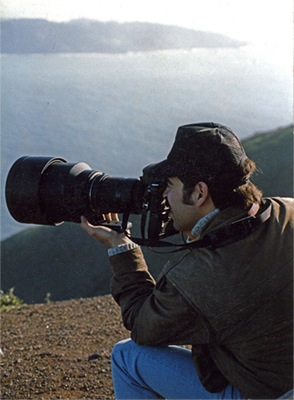 From the Summer of 1983 the lens was available for sale world-wide. It was in stock at some of those camera stores that were geared to serve the professional photographer, mostly in New York City, until well into at least 1986. However, most camera stores would not stock or show this lens instead ordering them for customers only as needed. As the limited market for these lenses became saturated the last of these new lens sets sold from New York mail order houses in around 1986. As an example of the final selling prices of these lenses, the owner of Company Seven bought his 300mm f/2 ED IF in 1986 for $4,200 (USD).