ULTRAVID 7 x 42 BR, 8 x 42 BR, and 10 x 42 BR Binoculars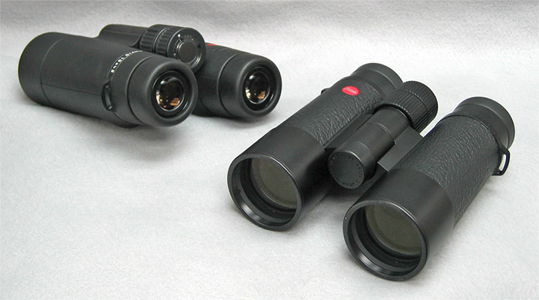 Above center: Leica ULTRAVID 42mm BR binocular at left, BL at right on display at Company Seven click on image to see enlarged view (202,818 bytes)
Leica binoculars have traditionally set the standards of brilliance, sharpness and brightness when it comes to meeting the objectives of turning observations that are rich in details into an unforgettable experience, even at great distances. And now, Leica has succeeded in establishing an entirely new standard of excellence with their introduction of the Ultravid binocular line announced 10 August 2003, while deliveries started in December 2003.
Left: Leica ULTRAVID automated presentation (269,609 bytes) showing 50mm BR model at introduction with overview of the product construction and components features. Click "Start Film" below and right of illustrated ULTRAVID 50mm binocular image to view.
Note: this is a Macromedia "Shockwave" film presentation and so your Web Browser must be suitably enabled to play it. Broad band Internet access is also suggested to speed download time.
Introduction
This latest evolution of the Leica binocular product line is the ULTRAVID series. The 42mm models are available in magnifications of in 7x, 8x, and 10x "BR" or armored. In addition an 8x 42mm BL in a leather covered finish is also available. While the larger ULTRAVID 50mm models come in 8x 50, 10x 50 and 12x50 arrangements. This line represents Leica's best possible optical performance, coupled with a lightweight yet rugged body design with improved ergonomics.
ULTRAVID takes the 42mm Trinovid BN and 50mm Trinovid BN series to the next level of technology development and ease of use. The ULTRAVID will be in some cases an alternative to the remaining Trinovid line, since several of the most popular Trinovid BN models will also remain in production.
FEATURES OF THE ULTRAVID
Easier to Use: Better, Faster and Lighter: Logically tailored to the intended use, every technical and ergonomic detail that went into the development of the ULTRAVID has been painstakingly examined, perfected or completely reinvented. The ULTRAVID simply put "feels good in the hands". Its ergonomics provide an instrument that is an extension of the observer - it "gets out of the observer's way" with a very comfortable, natural and well balanced feel. It places its controls and hardware at a convenient and comfortable position - and it's obstructions (strap hinges, etc.) remain out of the way. It features a comfortable and unobtrusive thumb rest groove on the underside of each barrel.
The BR models are covered with a new "soft touch" rugged cladding in your choice of Green or Black. This material is more comfortable to grip in all kinds of weather conditions. And the material is notably lighter in weight than the PVC covering used in the 42mm Trinovid BN models. The BL versions are covered in even an lighter weight leather.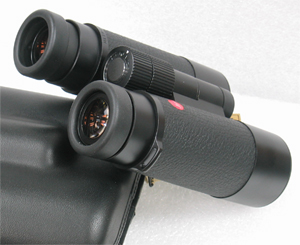 New eyepiece designs provide improved eye relief thereby making the observing experience more comfortable whether observing with the naked eye, with sunglasses, or prescription spectacles. This also makes it easier and quicker for the observer to center onto a distant object.
Twist up rubber covered eye cups design allows the user to quickly and conveniently snap the eye cup in our out, with two click stop settings along the way. Unlike some other twist up designs, there is no peaked contour of the rubber cup so that the ULTRAVID eye cup can be used while in or out, or in between their extension range without the observing bumping into the peak of the contour of other binoculars.
Right: eyecups provided with Leica 8x 42 BL ULTRAVID binocular with one at left in extended position. Also note the Diopter Adjustment Dial and Scale is just visible between the eyepiece barrels click on image to see enlarged view (245,496 bytes)
And these rubber covered eyecups can be removed by the user to facilitate cleaning the eye lens of the binocular, or replacement.
The ULTRAVID focus gearing provides smooth focus for a lifetime of service, with rapid focus from infinity to near focus points with slightly more than one full revolution of the convenient focus knob. This process can require as many as three revolutions in some competing models!
The diopter adjustment of the ULTRAVID is accomplished quickly by a pull and turn adjustment of the Leica Multifunction Center Drive focus mechanism. This can be locked securely, and when secured it preserves the waterproof integrity of the binocular.
As well as the high grade lightweight structural materials including a housing made of magnesium, a central hinge shaft of extremely sturdy titanium - which materials could possibly be more robust and lighter at the same time?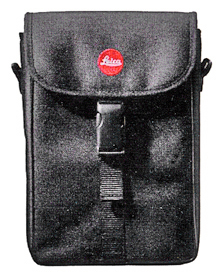 The ULTRAVID also differs from its predecessors in that the BR models are provided with a durable black nylon pouch instead of the soft leather zip up pouch with carrying strap. The new pouch has a snap closure, is more resistant to abrasion, and rot and is therefore a better solution for those who keep a binocular near the salt air environments. The Leica ULTRAVID 8X 42mm BL is provided with a form fitted hard shell leather case that will not accommodate the slightly larger 42mm BR models.
Left: Black nylon pouch provided with Leica ULTRAVID 42mm BR Binoculars click on image to see enlarged view (245,496 bytes)
Brighter: This development is achieved by Leica's continued application of state of the art computer aided optical design, and by the use of special high grade optical raw glass materials. The optics incorporate the new HighLux System (HLS™), this is an optical coating that is unequalled in its quantity and uniformity of transmission of light in the visible spectrum. The HLS™ coatings consist of a precisely applied forty three (43) layer coating, with each layer applied as thin as only 40 nanometers. By means of a special mirror layer on the prism system the process yields a level reflection of 99.5 %; it was possible to raise the image brightness to this level over the prior generation models. This among those attributes that makes the impressively high resolution imaging performance, and striking enhanced contrast possible.
The external lens surface of the eyepiece and objective field lenses are multi-coated with Leica's patented High Durability Coatings. This provides improved long term resistance to abrasion and environmental staining.
Stronger: As if the Leica durability was not already good enough (read about our Leica No-Fault warranty), Leica takes this too to another level of endurance. The housing of the ULTRAVID is made of an all metal magnesium chassis construction. This provides light weight and great strength compared to aluminum. And the ULTRAVID frame has nearly twice the thickness and strength of any competing magnesium or magnesium composite binocular made today.
The critical oversized Center Axis Shaft is made of extremely rigid and durable titanium. This is highly resistant to wear, contributes to structural integrity, and is a critical aspect of maintaining precise alignment of the binocular over a lifetime of service.
The all metal focusing system of the ULTRAVID which begins with the titanium Center Axis Shaft, utilizes a precise helicoid gearing mechanism. This is smoother, more durable, and more costly choice than the spur gear drive and materials employed by many competitors.
The ULTRAVID are now highly shock resistant, are nitrogen purged to be fogproof, are waterproof to a depth of 5 meters (16.5 feet), and will function over an extremely broad range of temperatures of from -25 degrees C (-13 degrees F).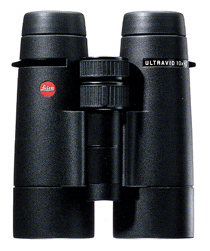 PERFORMANCE OVERVIEW
The 42mm aperture ULTRAVID series provide a great balance of resolving power, and portability. And ready for most daylight, early morning and dusk light conditions. These models achieve an image brightness that was impossible before now in a 40 to 42mm roof prism binocular. And their images will appear brighter even when compared against other less sophisticated models even with larger aperture objective (front) lenses.
Right: Leica Ultravid 42mm Binocular click on image to see enlarged view (181,339 bytes)
The remarkably slim and compact housings assure these binoculars can easily be put into a large coat pocket, into a brief case or travel bag, making these a very handy binocular to travel with - having a binocular available is just as important as its optical properties.
To make it even easier to carry and deploy Company Seven offers an optional "holster" custom fitted to hold this binocular. This is made of heavy duty leather, finished in black. It is similar in quality and construction to conventional heavy duty leather pistol holsters. This accessory can be attached onto a belt and it incorporates a leather strap to keep the binocular in place. The holster protects the objective (front) lenses of the binocular, and we include a smaller leather strap to attach the furnished binocular rain guard onto the binocular to protect the eyepieces. The holster provides excellent protection, and ready access to the binocular while hiking or climbing. Furthermore, one no longer needs to carry the binocular with the strap, it now becomes a quick and simple matter to "draw" the binocular and share it with others without the nuisance of having to clear a dangling strap over your jacket hood, hat or sunglass straps.
ULTRAVID BR AND BL BINOCULAR SPECIFICATIONS